Step 1:
To get started on updating a case note for a one-to-one service with a client, you need to first select the client using the Clients Form. For steps on how to search for a client, see
How to search for an existing client
.
Step 2: Once you have selected the client you would like to update a service record for, click on the "Case Notes" tab on the left.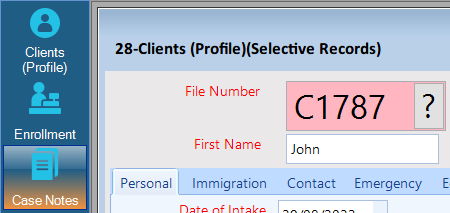 Step 3: The Case Notes window will then open which shows records of all one-to-one services entered for all family members of the selected client. To perform an update, double-click on a service record to open it.

Step 4:
Once the record is open, click "Update" on the top toolbar to edit the service record. You will only be able to edit a service record if it is not
locked
.

Step 5: A Case Notes form, pre-populated with the details of the one-to-one service, will now open. You can now make your desired changes.

Step 6: Navigate to other sections of the form by clicking on the tabs above the fields.

Step 7: Under the "More Activities" tab, you can add or modify other activities you would like to include in the same record. Please note that the time spent entered for each activity, including the one on the "Report Activity" tab, will be summed up as the total time spent.

Step 8: Under the "Case Note" tab, you can enter notes about the activities performed and your successes and challenges faced while providing service to the client. Please note that information in the case notes tab is internal to your agency.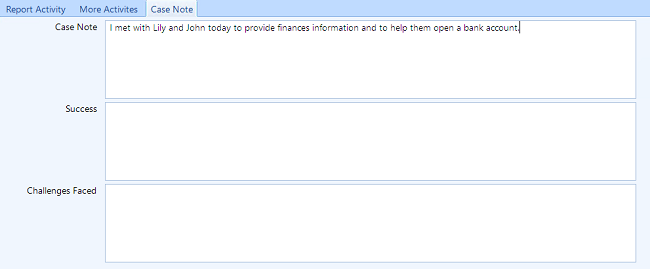 Step 9: Once all the information has been entered, click the "Save" button at the bottom center of the form to save the record.

Note on record locks:
Some records may be
locked
to editing, in which case attempting to update will result in the below message being displayed. There are two reasons why a record may be locked:
Time lock: A record cannot be updated once its agency-based editing time window has expired.
Funder lock: A record cannot be updated once its data has been submitted to funders.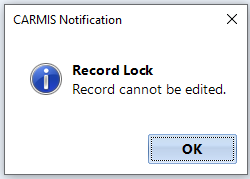 Video Guide - How to update a one-to-one service