Client registration determines which clients are available to be marked for attendance. Client registration can be updated for any event and will apply to all sessions whose attendance has not already been marked. A maximum of 750 clients may be registered for an event.
Step 1: To visit the Events form, click on Group Events > Create/View Event (201) from the menu bar.

Step 2: Click List from the toolbar to see a list of all events. Double-click an event from this list to open it.

Step 3: From the Schedule tab of the event, click on Register Clients to register clients for the event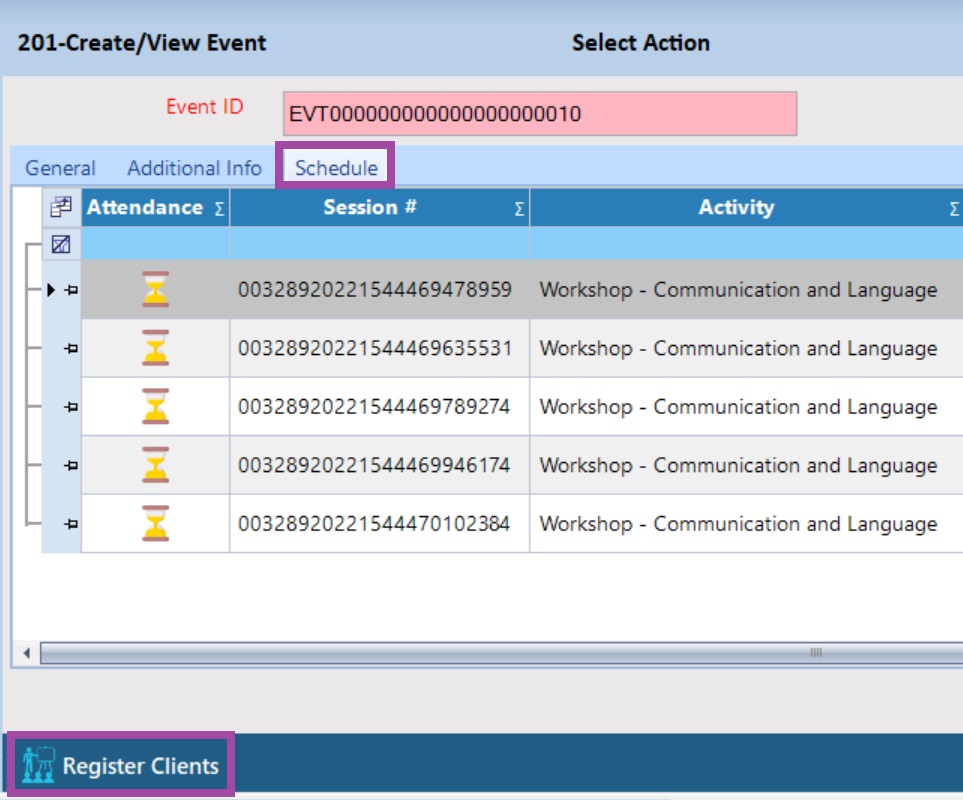 Step 4:
Click on the checkboxes from the "Select" column to select clients for registration.
Tip: Clicking "Select All Clients" will select all the clients from the list. (If clicked by accident, you can unselect all by exiting the form - click the

X

at the top right). A maximum of 750 clients may be registered.
Tip: The blank cells at the top can be used to add a filter. For more details, please see How to add filters in CARMIS.

If you click "Select All" while a filter is active, then only the filtered results will be selected.

Step 5: To register the selected clients, click on Register Selected Clients

Step 6: For events with many sessions, you may want to add or remove client registrations over time. This can be done using the same set of steps as before.

Please Note: Changes to client registration will only affect sessions that have not had their attendance marked.