Important note: if you do not see any of the options below, please make sure to confirm your access level with your administrator.
Step 1: Select "Reports" from the Menu Bar

Step 2: Select the report to generate. For demonstration purposes, we will use "Client Profile (Intake) (905)"

Step 3: Enter search parameters and click on "Show Report" to generate the report.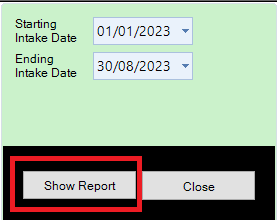 Once generated, your report will be ready to be published in Excel or PDF format. Please click here to learn how to do so.