Step 1:
To get started on entering a case note for a one-to-one service with a client, you need to first select the client using the Clients Form. For steps on how to search for a client, see
How to search for an existing client
.
Step 2: Once you have selected the client you would like to enroll in a program, click on the "Case Notes" tab on the left.

Step 3: The Case Notes window will then open which shows records of all one-to-one services entered for all members of the family of the selected client.

Step 4: To add a new record, simply click "Add" on the dark blue bar at the top.

Step 5: A form will then open in the Case Notes window where you can begin entering the details of the one-to-one service. The red labels on the form indicate mandatory fields while the black ones indicate optional fields. You will also see that the "File Number" is prepopulated.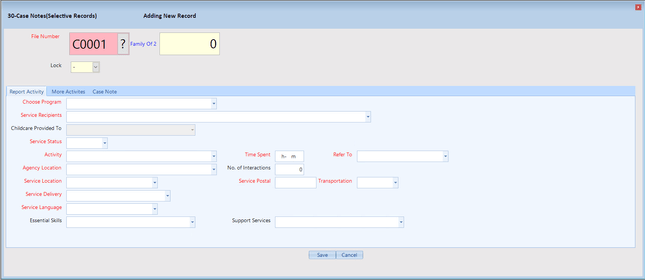 Step 6: Begin by choosing a program, then select a service recipient (one of the family members) and the service activity (this would be predefined for your agency). Fill out the remaining fields as required for the service record.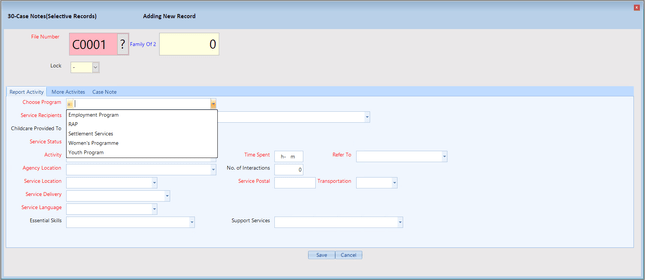 Step 7: Navigate to other sections of the form by clicking on the tabs above the fields.

Step 8: Under the "More Activities" tab, you can select other activities you would like to include in the same record. Please note that the time spent entered for each activity, including the one on the "Report Activity" tab, will be summed up as the total time spent.

Step 9: Under the "Case Note" tab, you can enter notes regarding the activities performed and selected in the record within the Case Note field. You can also enter notes about the success and challenges faced when giving service to the client. Please note that the information entered in case notes tab is internal to your agency.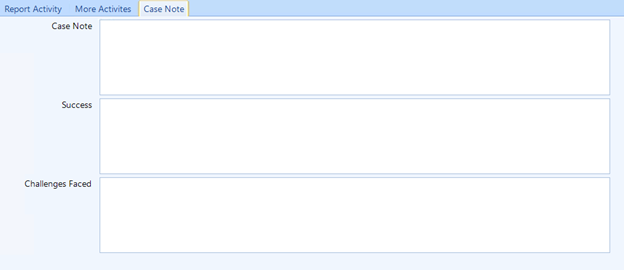 Step 10: Once all the information has been entered, click the "Save" button at the bottom center of the form to save the record.

Video Guide - How to add a one-to-one service