The Menu Bar is the orange-yellow bar at the top of CARMIS and contains the majority of CARMIS' functionality.

Important Note: The options displayed in the Menu Bar are based on the user's level of permission. For example, some users may not see the "Admin" option.

Each item in the Menu Bar corresponds to a specific form. Notice that each form has a corresponding form number (for example, the Clients form has a form number of 28).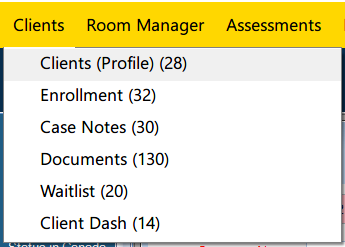 Form numbers allow fast navigation via the Form# field from the toolbar. To use the Form# field, simply type in the number of the corresponding form (for example, 28), and press enter to go directly to that form.