This article is for configurations that do not use CARMIS' Housing module. If your agency has this module enabled, please instead see [link].
Step 2: Once you have found the client you would like to update, click Update from the toolbar.

Step 3: From the Client's profile, click on the Contact/Social tab to locate the client's address information.

Step 4: From the Contact/Social tab, modify any of the "Current Address" fields to update the client's address.

Optionally, you may update any other section of the client profile during this time. If updating telephone information, please note that the International # field can be used if the client has an international phone number.

Step 5: Once you have made your changes, click "Save" at the bottom center of the form. Cancelling or exiting the form without saving will result in all the entered information being lost.

Step 6: After saving, if you modified the client's address then two messages will appear:

The first message will ask whether this is an address correction or a new address. This will affect how the address is recorded in the client's address history.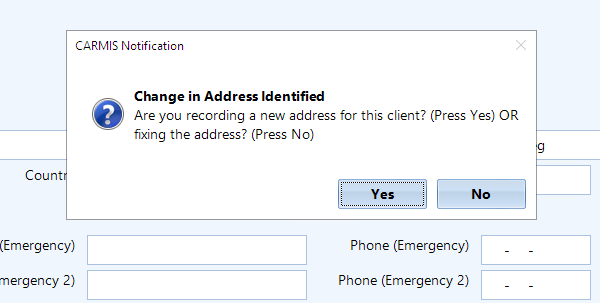 The second message will ask if every family member has moved to this same address. If you select "Yes" then every member's profile will be updated to this address.