Step 1: To generate an IRCC Employment Bulk Upload, first click on "Bulk Upload - IRCC" from the menu bar, and then click on "Employment Related Services (166)" from the menu that appears.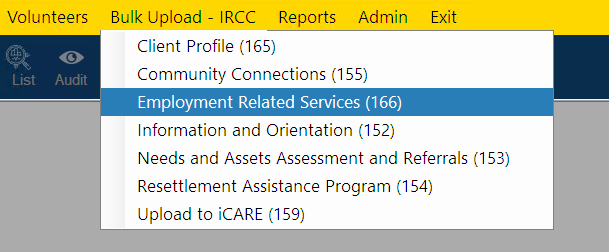 Step 2: You should now be viewing the form shown below with three options: "Choose Program", "As Of", and "Generate iCARE".

Step 3: In the Choose Program field, select the program(s) you would like to generate a report for.
Note: Program names may differ based on your agency's configuration.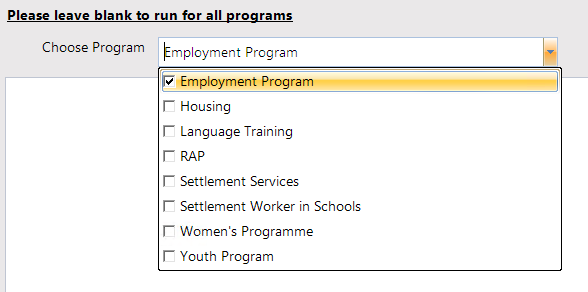 Step 4: In the "As Of" field, select a date. Service records shown in the report will include all unsubmitted records that were made on or before this date.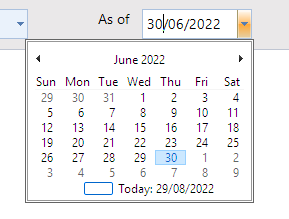 Note: It is recommended to perform bulk uploads monthly.
Step 5: Click on the "Generate iCARE" button. Your report will now be generated as shown below.

Step 6: Make any final corrections/changes to the data.
If CARMIS has detected missing/corrupt data, it will be denoted in yellow and red. Yellow indicates that the row has missing/corrupt fields, whereas red is used to indicate the fields themselves.
If you find a row you would like to change, you can:

Click on the first cell (column A) of the row to change client-related information
Click on the second cell (column B) of the row to change record-related information

Note that these changes will apply across CARMIS.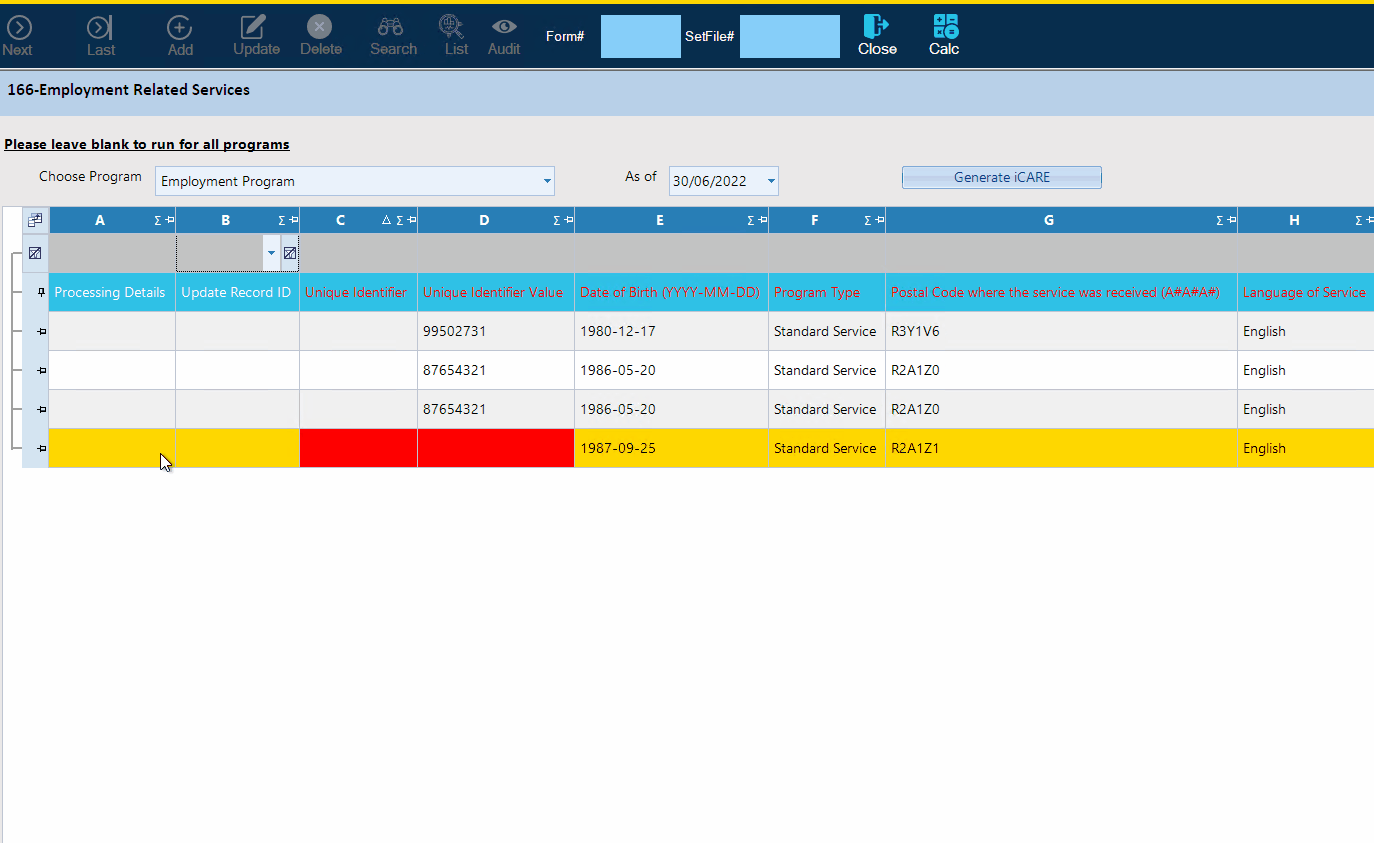 After making any changes, make sure to click the "Refresh Data" button from the bottom of the form to so it re-generates with the updated information.

If you are unable to fix missing/corrupted information for some records, you can still proceed with the bulk upload. Those specific records will simply not be included in the upload, will not be marked as submitted, and can be fixed at a later date.


Step 7: (Optional) Preview the report.
You can preview your changes with the "iCARE Draft" button.
Note: Use the "iCARE Draft" button for previews only. When it comes to the final version that you are submitting to iCARE, use the "iCARE Final - To Upload" button.

Your web browser will open automatically, and an Excel version of the report will be downloaded.

If you notice any data you would like to change in the preview report, first return to CARMIS to make the changes there (see step 6).
Once you are satisfied with the report, return to CARMIS and proceed to step 8.


Step 8: To generate the final report, click on the "iCARE Final - To Upload" button. This is important because it will flag each service record included in the report as "submitted". If this button is not pressed, then the service records will not be flagged as "submitted" and will show up in future bulk uploads and data might be duplicated.

Step 9: Submit the prepared excel to IRCC. Click on Bulk Upload > IRCC from the menu bar, and then from the menu that appears click on "Upload to iCARE (159)". From there, you will be directed to IRCC's website where you will be able to submit your report.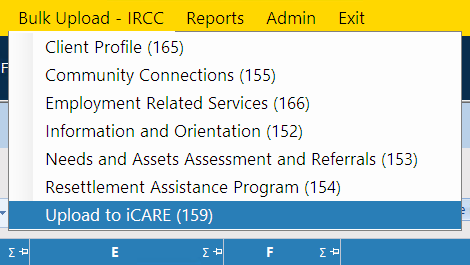 Important: One hour after report submission, return to the IRCC iCARE website to ensure all records were successfully uploaded to IRCC.